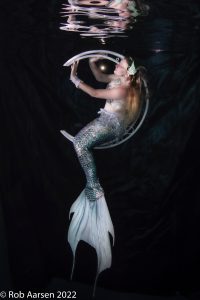 Whether you want a show in the water or a 'dry show', I create a magical performance that your audience will never forget.
I can perform at all kinds of locations and types of events. Examples are:
• Zoos
• Festivals
• Aquariums
• Weddings
• Pools
• Parties
• (Hotel) openings
• Clubs
• A photo or video shoot for an ad, TV program, and the like
I am fully insured, freedive certified, and scuba certified. When you hire me, you decide which tail I use.
Below you will find an overview of my various acts and other services. The possibilities are endless, however, and I can create a custom performance that suits your wishes! Are you interested in working with me, or do you have any questions? Do not hesitate to contact me.
Unforgettable water show

Do you want a spectacular show in your aquarium, a mobile dive tank, fountain, swimming pool or natural water? A real, swimming mermaid is an unforgettable experience for audiences of all ages.
I offer spectacular underwater entertainment. I have a freediving license and I can hold my breath for 4 minutes (static). I can swim between live fish in an aquarium at a zoo, for example. I blow bubble rings and bubble hearts. Your guests can take their picture with me through the window, or by the bank of a pond or pool.
A synchronized show with two or more mermaids is also a possibility!
If there is no aquarium or pool available, you can rent a mobile dive tank. A dive tank has windows and is about the size of a small truck. I know several organizations that rent out a dive tank. Please contact me for more information.
Enchanting aerial moon show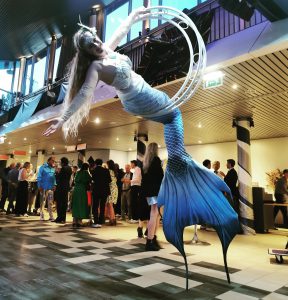 Are you looking for a unique aerial show? The moon is a magical entity. I possess a unique, handmade aerial moon that I use for fairytale-like performances. In this white, sparkling moon I perform as a mermaid or fairy. With my long, pale, shiny hair it gives you the sense of a moon fairy. 
During the performance, which can take anywhere from 15 minutes to several hours (with breaks), I do graceful movements and figures in the moon. I can also bring a bubble machine to use during the aerial performance, for an extra touch of magic! This is optional.
The aerial moon can also be used underwater! The powdercoat is fully waterproof.
This act requires a secure suspension point. I will suspend the aerial moon myself with my own cables. This act is suitable for indoors and outdoors. Sometimes it is even possible to suspend the moon from a tree. If that is your wish, I have to do a tree inspection prior. Please contact me for more information.
An aerial hoop instead of a moon is also possible if that is your preference. The hoop can be used underwater as well.
Spectacular underwater acrobatics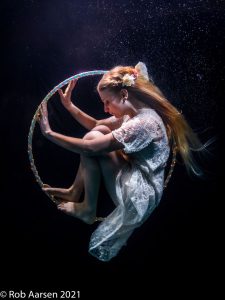 An underwater acrobat, does that exist? Yes, and this performance art was invented and pioneered by me. While wearing a dress or body I do an acrobatic performance underwater with an aquatic moon or aquatic hoop. Aquatic moon and hoop are disciplines that were created by me, and thus are entirely unique. I can perform in a large aquarium or a mobile dive tank that you can rent.
I can also perform without a moon or hoop; then I will create a choreography.
A duo performance with two underwater acrobats is also a possibility!
Training video aquatic hoop: https://www.youtube.com/watch?v=fZvi_iFvH7w
Example video aquatic moon: https://www.youtube.com/watch?v=zUlLrTvfvAY
The flowing mermaid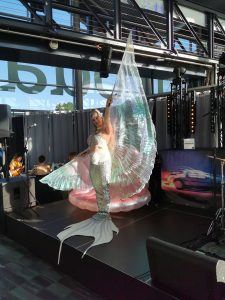 Is there no water available and no room for a dive tank at your venue, but would you still like a mermaid performance? No problem! I can perform onstage with several flowarts while in full mermaid gear.
I dance with shimmering isis wings.
I manipulate a short, shiny staff to float around me; how does she do that, the audience wonders?
With beautiful, blue, veiled poi it seems as if I control the water element.
I can perform with the following flowarts: isis wings, leviwand, and poi. My leviwand, isis wings and poi also have a led option, which looks amazing in the dark!
Here is a short compilation video of me performing flow arts at a party.
.
A splashing welcome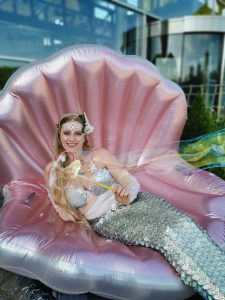 Are you hosting an event or party and do you want to bid your guests a very special welcome? Hire a mermaid as a hostess! I can sit on my large, inflatable shell, a stool, or on something else. It is also possible for me to stand while I'm wearing my tail. I bid your guests a splashing welcome!
During the welcome, there are several possibilities to make it even more enticing. I could hand out drinks to guests entering the venue. Your guests can take a picture with me. I could also blow large bubbles.
Photo shoots, video shoots, advertising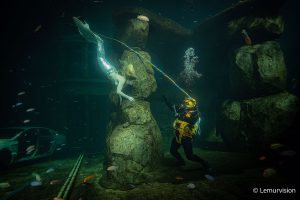 Do you need an underwater model, or are you looking for a mermaid or underwater dancer for a campaign? I am a highly experienced underwater model and I have been theater trained. An underwater photo or video is very unique and will definitely draw desired attention. 
We discuss your concept and desired styling. I will make sure my costume meets your expectations. If there is no MUA available, I can do my own (underwater) makeup. I can even bring props such as an underwater swing. I would love to create a concept with you!
Meet & greet with a real mermaid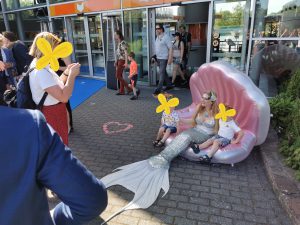 Meet a real mermaid!
What questions have you always wanted to ask a mermaid? Now is your chance! Have your picture taken with me and create lasting memories. We could also craft or swim together. Make your dreams come true!
Mermaid workshop for adults – private or duo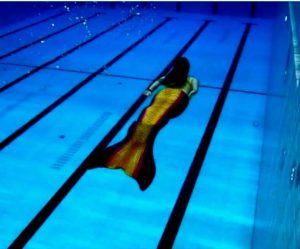 Learn everything there is to know about being a mermaid and make your dreams come true with this workshop!
The workshop takes 1.5 hours and you get to use one of my training tails. I teach you all the basics about swimming technique, safe use of a tail, and I give you lots of great tips. You will swim with a real mermaid tail and monofin and I will take pictures and videos of you with my GoPro. You will receive the photos and videos after the workshop. This workshop is suitable for adults. You can do it alone, or with a friend.
This is a picture of Siren Solem. After she took my workshop, it was clear to her that she wanted to continue being a mermaid. Meanwhile, she has bought her own beautiful tails and had some amazing photoshoots. Click on the picture to see her instagram. Such an amazing mermaid evolution!
Birthday parties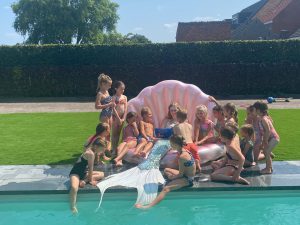 Do you want to gift your child an amazing party that they'll remember forever? Hire a professional mermaid for a mermaid birthday party! Mermaid Liara, or one of her best merfriends, will provide your child with a magical birthday experience.
There is more than one way to have a mermaid party. It also depends on the location: can you rent (part of) a pool? Or do you want a 'dry' party at home? Contact me and let's discuss the party of your child's dreams. 
General booking conditions:
At the moment of booking, a retainer of 50% of the total costs must be paid. Without a retainer, I cannot hold your spot. The retainer is non-refundable. If you, for whatever reason, have to cancel, please contact me and you can move my performance to a different day/time without any extra charges. The other 50% is due within 30 days after my performance. It can also be paid in cash on the day of my performance.

I will ALWAYS bring an assistant with me; a so-called 'mertender'. The mertender helps me put on my tail, assists me during shows and protects me.