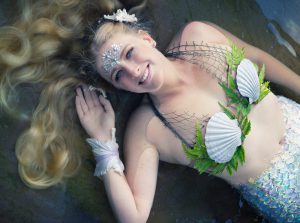 Shello! I am Mermaid Liara. I am a professional mermaid and underwater acrobat from the Netherlands.
I have been an avid snorkler for years. Having the freedom of floating while witnessing the gorgeous underwater world is an indescribable feeling. I've had amazing experiences underwater: I have seen turtles (my favorite animal!), colorful fish, moray eels, and dolphins. I have freedived in the Red Sea of Egypt. I even took a selfie with a dugong! In 2021 I adopted a sea turtle. Her name is Turtledile and as we speak, she is swimming in the Gulf of Mexico.
When I was a toddler, my Dad read The Hobbit to me. This ignited my love for fantasy. I love visiting fantasy events and ren faires and I make my own elvish and fairy outfits. I enjoy the magical things in life, such as rays of sunlight peaking through the leaves in a forest, watching the sun rise, feeling the grass under my bare feet, err I mean fins, and enjoying food that I made with love.
The instant I discovered the art of mermaiding in 2016, I fell in love. Mermaiding is the perfect combination of my passion for water and my love for fantasy and magic. I immediately bought my first tail. When I took it to the water, it was even more fun than I expected! Swimming in a tail, creating your mersona, and the mermaid community are so amazing. Mermaiding is elegance, exercise, creativity and freedom.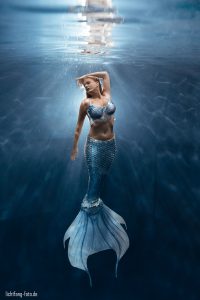 During the years that followed I made leaps forward. I practiced my swimming technique and underwater tricks multiple times a week. I got my freedive certification. My current static breath hold is more than 4 minutes. I also practiced additional skills, such as flow arts and underwater acrobatics. In 2019 I purchased my first professional mermaid tail: my pride Holy Song (see photo on the left!). The time had come to start my mermaid performing company. Since then, I have had the privilege to perform at many amazing gigs; underwater and on land.
Besides mermaiding I enjoy cooking, reading books, traveling, crafting, long walks, and the company of my friends.
I am freedive certified, scuba certified, fully insured and I am registered under number 70313482 at the Dutch Chamber of Commerce (KvK). I am available worldwide.